What is copy trading?
Copy trading is a special technique allowing participants to follow the patterns of other traders and accordingly duplicate deals to one's account. This way you can earn from others' insights without the necessity to build your own plan.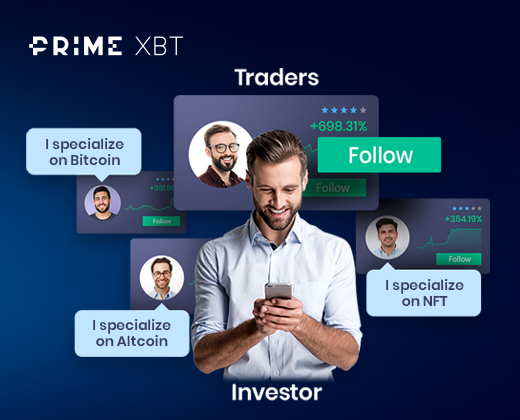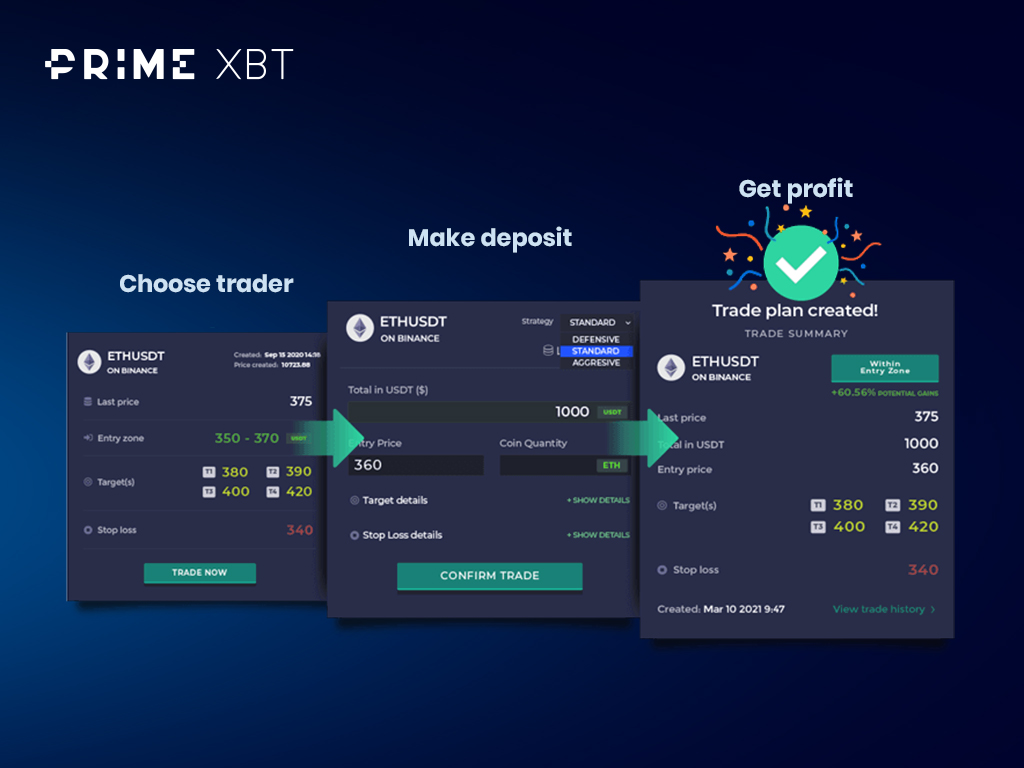 How does copy trading crypto work?
The PrimeXBT company has been providing crypto copy trading opportunities through the Covesting platform since 2018. We aim to ensure our clients will have the possibility to find the most experienced participants with different styles and benefit from their insights.

The performance of the individual you keep track of is the most essential thing in copy trading. This factor impacts how much you'll earn. It heavily depends on the chosen market and financial products. With our technologically advanced system, everyone can gain some more experience in the market of cryptos.

To some extent, we offer unique services: few financial systems offer exposure to such technologically advanced products as cryptocurrencies. The reason for this is that this ecosystem is relatively new to the industry of online trading. To benefit from virtual coins, it's suggested to obtain some specific expertise, skills, and understanding of various digital products, too.

With our copy trading platform, crypto becomes much easier. We recommend you to consider these aspects if you aim to take advantage of crypto copy trading.
Pick up the right Crypto exchange
As a beginning enthusiast in the world of DeFi technologies, you must pay a lot of attention to the system where your deals will take place. PrimeXBT has everything one needs to both develop a crypto trading plan or follow the insights of more advanced users. On our platform, you will get exposure to a wide selection of crypto coins and numerous technical tools that will be handy when analyzing the performances of digital coins.
Select the right trader
If you prefer to start copy trading, it's necessary to look through the listings and find the right person to follow. This choice depends on numerous factors, so we cannot provide you with an ultimately efficient recommendation. We can just highlight the importance of the market, the background experience with certain products, conditions, preferable assets, time spent on the platform, etc. You can see, compare, and filter out all these features on our crypto copy trading platform. More than 430 active users display their profitable plans there – you are free to pick up anything you like the most.
Set up the software
Although the trades will be copied automatically, it's vital to make sure that all the necessary features of the platform will be at your fingertips. This is exactly what the Covesting crypto copy trading platform offers to our clients. You can make use of the user-friendly interface and customize the boards the way you like by adding new traders to copy from.
One more significant benefit of the Covesting platform is that it offers you to copy crypto trades right on the go. You can install a customizable mobile application for either iOS or Android devices and utilize all the necessary crypto copy trading functions from your smartphone.

Be vigilant
Even when copy trading, don't let things go without your attention. If you want to succeed, you must stay vigilant and follow the efficiency of the copied user. This is especially relevant for those who copy trade in crypto, which is notorious for its extreme instability.

✅ Pros of crypto copy trading
We believe that crypto copy trading is a very beneficial way to step into the world of digital finances and online trading. Here are the reasons why:
You can choose an advanced trader and copy his trades automatically without the necessity to learn how the crypto market works on a full-time basis.
You can analyze which strategies work in crypto trading and learn them to later come up with your own relevant trading plan.
Crypto copy trading investments might be minimal as you can copy from a trader with a small budget.
This is a good way of passive income.
❌ Risks of cryptocurrency copy trading
Obviously, nothing can be 100% positive. That's why you should consider the risks before you start working on our crypto copy trading platform:
Cryptocurrencies are the most volatile assets, which makes them difficult to trade without background experience.
The cryptocurrency market is very speculative and it lacks liquidity.
Even if you find a very experienced trader with proven experience, nobody guarantees you that all his trades will work 100% efficiently all the time.
We recommend everyone try copy trading with the PrimeXBT Covesting crypto copy trading platform, regardless of your experience and knowledge of virtual coins. You can either become one of more than 430 traders sharing their strategies and earning on a commission, or copy from one of those traders. The choice is yours!

The only fees you will be charged for utilizing PrimeXBT copy trading services are spreads and transactional commissions. No extra fees are applied.

The minimum deposit required by our crypto copy trading platform is 0.01 BTC.

If you meet the requirements of our platform for accounts that are eligible to be copied, you can share your crypto trading strategies and take monthly earnings from a commission paid by your followers.