PrimeXBT covesting
Covesting.io is a trading software solution that focuses on providing advanced trading strategies shared by experienced traders.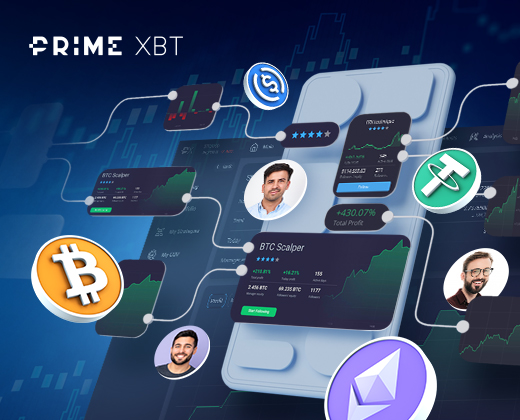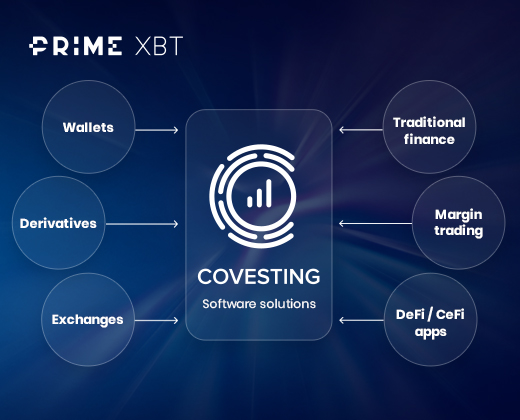 Covesting
Covesting.io is a trading software solution that focuses on providing advanced trading strategies shared by experienced traders. With this copy-trading module, users can automatically duplicate trades and make money from them with literally no effort. Such a concept is suitable for both beginners and professionals – the first category earns from copying and the second one gains profits from sharing.
The copy-trading module of Covesting can also be used as a mobile solution. Mobile trading makes things much easier as you can add trades and close them right on the go, anywhere and anytime.
How Does Covesting Work
When you access the Covesting trading software, the first thing you will see will be a listing of hundreds of strategies shared by experienced traders. You can adjust specific criteria if you are looking for strategies that correspond to your risk management, performance, profits, etc. requirements.
The platform also has a Portfolio page. This is the board where you can see the performance of the strategy you are currently following. This helps you to stay informed and make quick decisions when it's necessary to switch to other strategies. Your past strategies are also displayed there.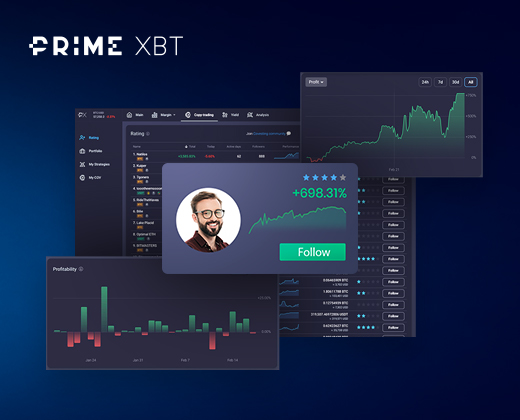 Covesting.io is one of the most revolutionary copy-trading modules for cryptocurrencies. It's necessary for you to be aware of these advanced features of the software solution:
Filtering system. It makes the Covesting platform very customizable and user-friendly. Users can sort out the strategies they need and the ones they aren't going to follow by setting clear criteria such as active days, performance, profits, assets, and others.
Yield Accounts. This is the feature that allows you to generate profits from existing cryptocurrency holdings by staking your coins. The interest under which you stake cryptos on Covesting is variable. Nevertheless, this is a good way to make additional income from digital asset holdings.
COV utility token
One more unique feature of this copy-trading module is that it operates its own utility token called COV. It's an advanced solution that boosts the efficiency of the Covesting ecosystem. It also provides its users with the possibility to earn more as the COV token can be staked through Yield Accounts on Covesting.
Holders of the COV utility token also acquire special memberships providing them with extra possibilities. Depending on the level of your membership, you can choose different plans – Advanced, Premium, or Elite – and use exclusive opportunities of these plans.

Covesting Fees
Covesting serves as a copy-trading module for PrimeXBT clients. Hence, its fees are linked. Here is the table of the fees you will be required to pay for using Covesting copy-trading services:
| | |
| --- | --- |
| Minimum deposit | 0.01 BTC |
| Spreads | From 0 |
| Commission | From 0,0001% |
| Following min amount | 0.001 BTC |
| Following entry fee | 1% |
| BTC/USD | 0.05% |
PrimeXBT Collaboration with Covesting
As mentioned before, Covesting is a copy-trading module of the PrimeXBT trading platform. PrimeXBT isn't just a crypto exchange, it's a company that provides the possibility to earn from other markets, including forex, indices, and stocks. Therefore, Covesting offers also to copy strategies with other assets – 50 currency pairs and 14 CFDs are available in addition to 41 crypto pairs.
Covesting is represented as a built-in feature of the PrimeXBT trading platform. You can enter it by clicking the icon on the top of the board of the PrimeXBT platform. You will then be able to use your existing account to add new strategies and share them with other traders or copy trades from more experienced participants.
The majority of conditions on Covesting are the same as on PrimeXBT. The only difference is that you will need to pay the following entry fee. Also, on Covesting you can use the COV utility token.


The profits you earn by copy-trading deals of others can be withdrawn through the PrimeXBT trading account. The trick here you should understand is that PrimeXBT accepts not many banking methods. The withdrawal can be executed only in BTC, ETH, USDT (erc20), or USDC (erc20). Also, you need to understand that if you want your request to be executed the same day, you have to make it as early as 12:00 UTC. All other withdrawals will be executed the following day.
Pros and Cons
✅ Pros:
The Covesting platform displays over 400 active strategies. This means you have the possibility to choose from a great selection. You can consider different criteria and find strategies that perfectly suit your investment goals, style, and schedule. You can also easily find strategies with the most preferable assets.
Your chance to generate gains increases thanks to a high return on investment rate offered by the provider.
It's easy to filter our strategies and find the ones you can actually earn from. See how many days the traders have been active, examine the charts of their performances, study the style, and more.
Covesting is a good source of extra income for both beginners who copy trades and professionals who share.
❌ Cons:
The selection of crypto assets is limited.
To start copy trading on Covesting, you need to create a trading account on PrimeXBT and follow all its conditions.
On the whole, Covesting is a revolutionary solution in the world of cryptocurrency trading and copy-trading services. It's one of the first enterprises in this sector officially incorporated with a regulatory body. Covesting is also one of the most innovative solutions with a high level of customizability and efficiency.