Invest like top crypto investors
Forget about wasting time on strategy creation. Earn by duplicating deals with the best crypto traders!

Get started
⏳ Register for free (€0.00) within minutes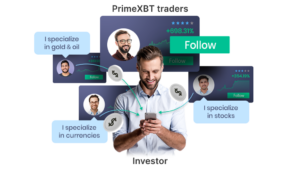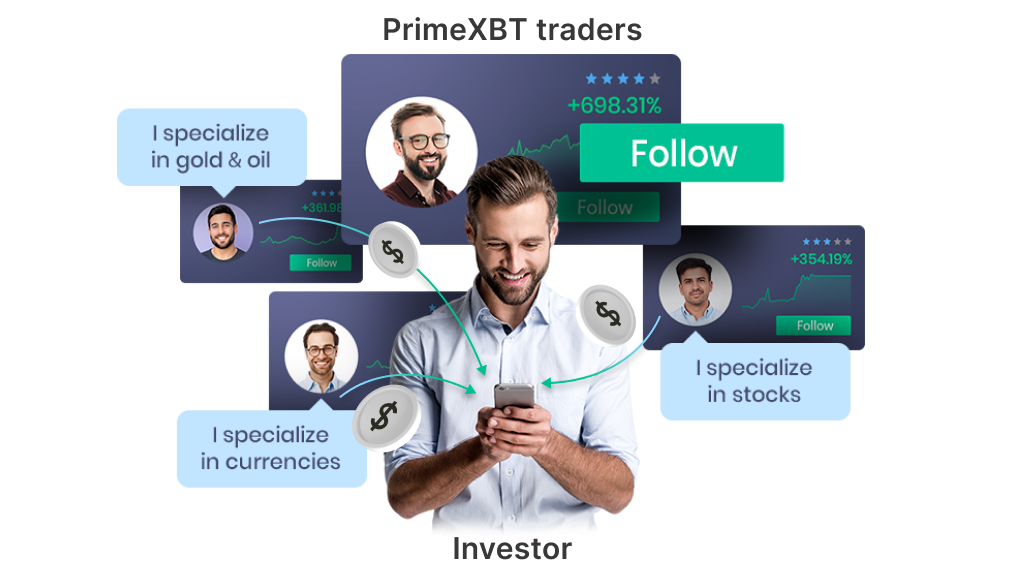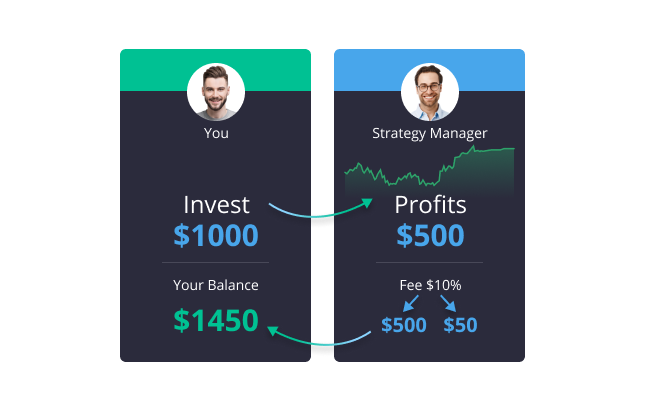 What is copytrading
Copy trading refers to a special way of interacting with other module users. They share their insights and strategies, and you use our software engine to link your trading account and duplicate trades in an automatic mode. This approach requires minimum effort from a copy trader and is very time effective.

Explore more about the best copy trading strategies and find the best active users to follow. PrimeXBT offers plenty of such participants!

Get started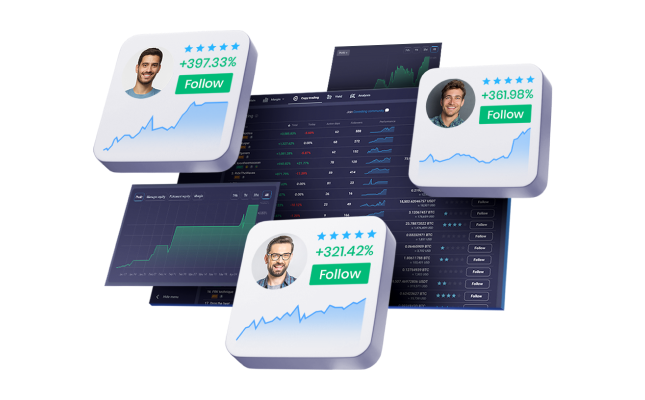 Top traders work for you without fees
Everything you need to do to succeed on the PrimeXBT social trading module is to find profitable participants and start following them. Analyze portfolios, available crypto assets, and the recent and all-time statistics of trading activity.

PrimeXBT lists successful investors. You don't need to pay additional fees to copy their deals automatically. Link your account and take 70% of profits from every successful trade duplicated.

Get started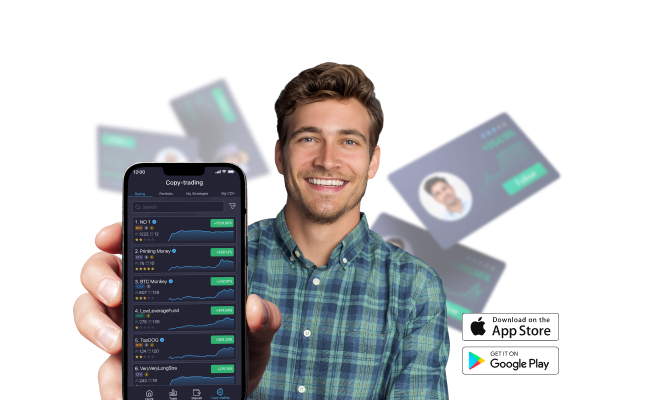 Copy trading app
PrimeXBT encourages clients to stay in touch regardless of their geographical location and access to PC. Download our user-friendly mobile application for copy trading and stay tuned to your top traders copied anywhere and anytime.

The copy trading app doesn't limit access to instruments one needs to successfully duplicate others' deals. Enjoy the user-friendly features of the robust mobile app for copy trading!

Get started
Why do people choose us
Absolute security
Our copy trading platform provides a few levels of funds and data security through 2F authentication, cold storage, SSL encryption, and other robust tools.
Management of risks
Set up stop-loss orders to manage the volume of potential losses and unfollow unprofitable deals once they start suffering too excessive losses.
Fast Transaction
The high liquidity of the trading platform ensures fast execution of orders, and professional staff guarantees quick processing of withdrawals from cold storage.
Bitcoin Investments
Find the best traders with the most efficient trading strategies in the mainstream digital market.
How to copy-trade on PrimeXBT
PrimeXBT copy trading platform offers top-notch tools for traders' search, so copying them here isn't a big deal.
Choose a trader
Use our filtering system to find a strategy you like and click the "Follow" button.
Set an amount
Allocate the amount that corresponds to your goals and risk management plan.
Hit Copy
Analyze the performance of the followed strategy and decide whether it's worth following or not.
We're on top review websites
As a beginning copy trader, I was very pleased with the possibility to choose from such a great selection of top-performing crypto traders.
It's very easy to copy a trader here. I can just set up all the characteristics of my perfect strategy and choose the best among the offered ones.
This copy trading system is wonderful! I have never worked on a module displaying such detailed statistics on available strategies.
I enjoy the rewards of this copy-trading platform. 70% of every successful trade is a very decent share if you find a profitable user to copy from.
The PrimeXBT cryptocurrency copy trading platform is a very customizable and user-friendly solution. I can adjust everything I need.
To follow & copy forex traders here is just easy. Although it was designed as a digital exchange, the selection of forex deals is also nice.