About us
What do you know about PrimeXBT and why should you choose us if you haven't done this yet? What is PrimeXBT and how does it contribute to the development of the digital trading industry? Learn more about us to get answers to all these questions.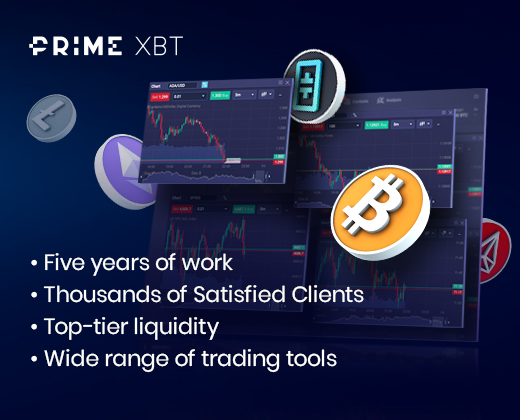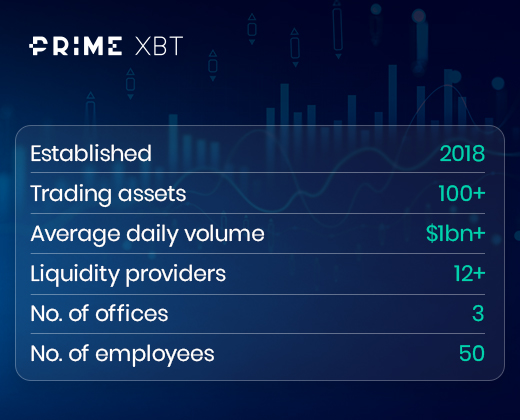 PrimeXBT company
The history of our company dates back to 2018. This was the time when our team came up with the idea of creating the most user-friendly, technologically advanced, and reliable platform for cryptocurrency trading. Since then, we have gradually evolved and become one of the most demanded service providers for traders from over 150 countries. Now, we offer something more than just a secure platform for crypto exchanges: with PrimeXBT, you can earn from forex, stock, and commodity markets as well.

Over the course of these years, PrimeXBT has managed to acquire a reputation as one of the most robust trading systems for both beginners and professionals. We ensure high speed of transactions and trades execution, the efficiency of performance, and complete security of users' data without the necessity to come through a time-consuming verification procedure.

PrimeXBT has evolved into something bigger than just a Bitcoin trading platform. We offer advanced copy-trading services with the utilization of robust tools and customizable platform layouts.
Our vision
The vision of the PrimeXBT company is totally focused on the needs and expectations of our clients from all over the world. Dynamic growth and development are one of our key values, as our vision states that a successful trading company must keep up with the latest trends in the industry. We believe that such a vision will help us to serve our clients and provide them with the best digital trading opportunities more efficiently.

Since we aim to constantly develop, regular innovations are the keys to our visions. The PrimeXBT team aims to make sure that our clients will have access to the most progressive cryptocurrency trading tools. We also strive to expand our influence and the progress-oriented approach to other financial markets.

Since the very first day of the PrimeXBT foundation, we had one clear goal – to provide traders from all over the world with the best opportunities in the cryptocurrency trading industry. Our mission is to ensure that your funds aren't just safe but they really work for helping to gain profits in the online trading wall.

Our mission is impossible to achieve without the innovations that will eventually lead our company to the top-1 position in all ratings of online trading platforms. We fully take the responsibility for our actions in this difficult way and believe that our clients are the only ones to judge our success.

If you want to learn more about the trading opportunities with our online platform, contact us or learn more from other pages on our website. You are free to explore everything you are willing to know about the PrimeXBT trading platform!
All-in-one platform
Explore one of the most highly technologically-advanced cryptocurrency trading platforms.

See all the information about your trading account and deal on the Covesting platform on one dashboard. Explore the capabilities of margin trading accounts and take advantage of top-notch charts, indicators, and orders.

All the operations of the PrimeXBT company are legal within the available jurisdictions. It has two officially registered offices in Seychelles and St. Vincent and the Grenadines.

Get to the Help Center to find answers to all questions you might have about trading conditions and the technical features of our trading platform. Contact us by email to receive customizable support from a professional manager.
What we offer
PrimeXBT provides access to financial products from different markets. You can speculate on 41 cryptocurrency pairs, 50 forex pairs, and 14 CFDs on stocks, indices, and commodities. PrimeXBT ensures loyal and beneficial conditions for traders of all securities. Our trading commissions are minimum – for cryptos they are as low as 0.05%. With our advanced instruments, such as different types of charts, indicators, and orders (including Stop Loss order), every user has a chance to earn real money and minimize trading risks.
Absolute security
The PrimeXBT platform implements robust solutions to protect clients' data and funds. Set up 2F authentication, cold storage, SSL encryption, and more to be fully protected.
Diversity and Inclusion
We offer trading assets beyond the crypto market. We are open to forex traders, commodity investors, and CFD speculators.
Fast Transaction
Orders on our trading platform are executed within fractions of a second. Withdrawals can be processed the same day if requested correctly.
Crypto Investments
Find the diversity of cryptocurrency pairs. Invest in coins themselves and speculate on CFDs for crypto pairs.

The PrimeXBT company has two headquarters, which are ready to accept and respond to the requests of our clients 24/7. One is located in St. Vincent and the Grenadines under the 222LLC2019 registration number and another one is at Seychelles company – nr. 217308.

When PrimeXBT stepped into the industry of online trading, we were fully aware that we had to do our best to go through the tough competition in this segment. eToro, Gate.io, Binance, UPHOLD, Coinbase Exchange, and other top-tier crypto exchanges are our main competitors.

The legal name of PrimeXBT is PrimeXBT Trading Services LLC. The office at Seychelles is registered under the name of Prime Technology Ltd.